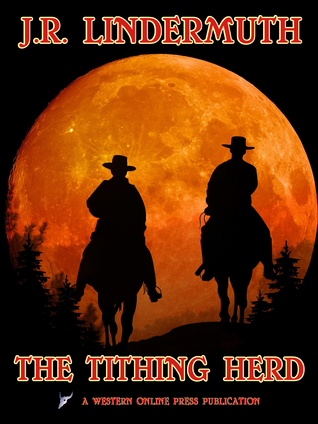 The Tithing Herd
© 2015 J.R. Lindermuth
A western Online Press Publication
---
This book intrigued me because of the western community about which I hadn't read much. I was also interested in a Western, by J.R. Lindermuth. I've read several Lindermuth books—historical fiction, historical mysteries, contemporary mysteries—and they have been set east of the Alleghenies. My western self wondered if he would give a good sense of place about the West. I should have known it wouldn't be a problem. Lindermuth is too good a writer, and this book settled me strongly in the West, among well-crafted characters.
The story had a distinctive classic Western edge, with ex-sheriff Luther Donnelly on the trail of the nasty criminals who killed his brother. But at the get-go, Donnelly finds young Tom Baskin, who has been strung up by his heels from a lone tree in a desolate location and left to die. Once Donnelly rescues him, Tom has revenge on his mind, too.
Donnelly isn't too keen on his newly-acquired sidekick, and hopes to lose him at the ranch of a friend. But Donnelly and Baskin are both roped into helping Mormon ranchers who have to get their cattle—their tithing herd—the the central holding pens. Donnelly has a feeling this herd will be a draw for the criminals he's seeking.
The outlaws are vicious, and they have plans of their own.
How the story plays out is intricate and violent.
Lindermuth also adds touches of romance, a few that might have been a bit over the top. But I don't appreciate romance elements, and they are a standard element in a classic Western.
In all, I appreciated the story, found the writing top-notch, and wonder if the multi-talented Lindermuth will add more books to this genre.
---
J.R. Lindermuth is the author of 12 novels, including six in the Stix Hendrick Mystery series. A retired newspaper editor/writer, he is the current librarian of his Pennsylvania county's historical society.
Member: International Thriller Writers, Short Mystery Fiction Society.
Website: www.jrlindermuth.net